I'm not gonna sugar coat it. If you are a regular reader of hello unknown, then you've been waiting for over a month to read this entry. And it's basically just a recipe for trapping fruit flies.
Fruit Flies or Time Flies?
Yeah, its been awhile. But, one thing holds true no matter where you are – life can get crazy fast. The last 30 days looked something like this:
We take a train to Bratislava, Slovakia to apply for our visas.
They accept our application, woo hoo! (Now we wait…)
Amy loses her beloved camera on the train, boo! Despite the fact that a camera is just a 'thing' and can one day be replaced, this loss was terrible and devastating. Amy loved that camera. She was depressed. We are slowly recovering.
I get sick. I get better.
Amy gets sick. Amy gets better.
I get sick again! I get better again.
We search for a new flat.
We choose a new flat, and sign a lease. A more permanant home is just a few weeks away.
Work pile-driver! We don't see anything outside our apartment for several days at a time. Just us, our laptops, and mountains of jobs to get done. The occassional coffee shop keeps our sanity in tact. Two all-nighters for Amy, and I tag along.
Fruit Flies, Time marches on
And finally, infestation! We're not sure how exactly, but our tiny flat was invaded by fruit flies.
After Amy used her ninja moves to swat 10 in a 30 minute stretch, I decided to attack with science and found a recipe for this contraption: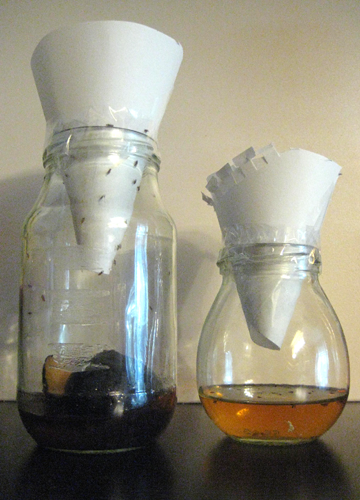 (You can read more about this here.)
Two and a half months into our adventure and one thing is for sure: it's way too easy to lose a month.