Celebrity Encounters
I met Lance Armstrong once. I was a young reporter with a bad haircut, lugging a massive tripod and camera all by myself at a fun race fundraiser. And since I was the only reporter in sight, and probably because I was this young thing lugging all this massive gear, Mr. Armstrong waived me past his body guard so I could interview him. That was cool.
Then a few years in a row during South by Southwest, I hung out with Lyle Lovett a number of mornings. He was a regular guest on a radio show that broadcast all week from the lobby of a swanky Austin hotel. My TV station piggy-backed on this radio broadcast for morning live shots, so Lyle and I were often first to the lobby. He even remembered my name from year to year. Stand-up guy. Love him.
But yesterday, my knees got all week, I broke into a sweat, and I couldn't concentrate. Because. I was chit-chatting with a sweet family on my walking tour when, before I even really realized she looked familiar, I blurted to one of them, "You look a lot like one of the girls from Eisley. Have you heard of them?"
Eisley is a groovy indie band of sisters that Dennis and I have followed for years. We especially love belting out their tunes together on road trips.
So as I was saying, I said, "…Have you heard of them?" Well, yes she had, because, yes, she was.
I was very excited. Completely star-struck. But the tour had to go on, so I continued, having no idea what exactly was coming out of my mouth for the rest of it. And at the end Sherri and her rock star hubby, Max Bemis of Say Anything, were kind enough to humor me with a picture.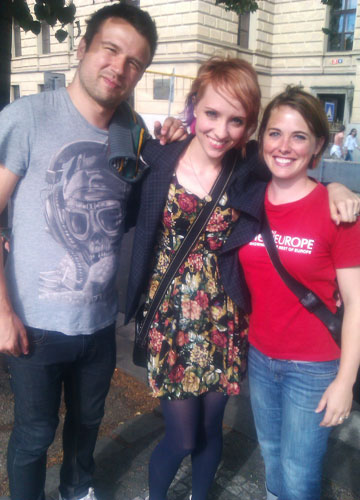 "And to your right…"
Oh, P.S. … I'm a tour guide! I was walking past a tour group in the spring, and heard the guide speaking English with an American accent. That was enough for me to go, "I could do that!"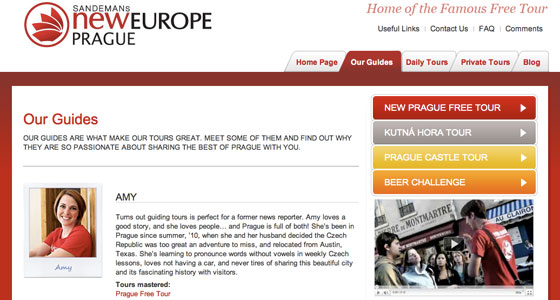 I've been guiding walking tours for a couple months now, and it suits me just fine. As you might imagine, I think it's fun to meet new people every day, and I'm no history buff, but I do love the history of this city. Just beware, because I have developed a bad habit of breaking into tour guide voice randomly with friends. Any excuse for an audience.;)