I turned 30 two weeks ago, and to mark the occasion my husband unveiled his most conniving, manipulative plan yet.
He's making me run. For my birthday present. As in, I don't get my birthday present unless I run. Sort of.
See, this is what Dennis gave me for my 30th birthday: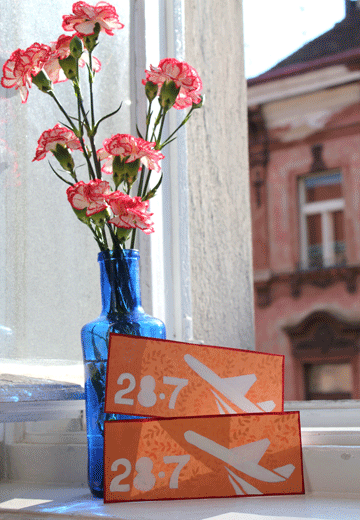 Two airline tickets for a Mystery Trip for six days to a mystery location for what I assume is a mystery adventure. Because I've been assured I will get the most out of this Mystery Trip if I follow "The Plan." "The Plan" is basically to get in the best shape of my life in the next two months by eating right, working out, and… running. Regularly. In a park near our flat with monstrously steep hills. And the only thing I hate more than running, up hills, is that feeling that your hair is tickling your cheek and it turns out to actually be a spider on your face. (That happened this morning.)
If I follow The Plan, I get clues every week between now and the Mystery Trip. I won't tell you the clues I've gotten so far, because I can't go and having you guessing my Mystery Trip before me, but here are my guesses so far:
Dennis is going to make me swim the English Channel.
Dennis is going to make me hike Mount Kilimanjaro.
Dennis is going to make me ride a camel across the Sahara.
Dennis is going to get a punch in the face, because I don't really like exercising, or, frankly, strenuous activity.
But I do like finally working toward a long-neglected goal of getting in shape. And I do like surprises. And I'm finding I do like being tricked into being motivated.
It's pure brilliance really. And I'm loving it. Will keep you posted.