If you follow Amy or me on Facebook, you might think we have a drinking problem. Since moving to Prague, it seems every time we're tagged in a photo, it involves beer. If you look at my timeline I'm fairly sure you can track the growth of my beer belly. On more than one occassion our grandmas have gently commented that we should take it easy on the alcohol.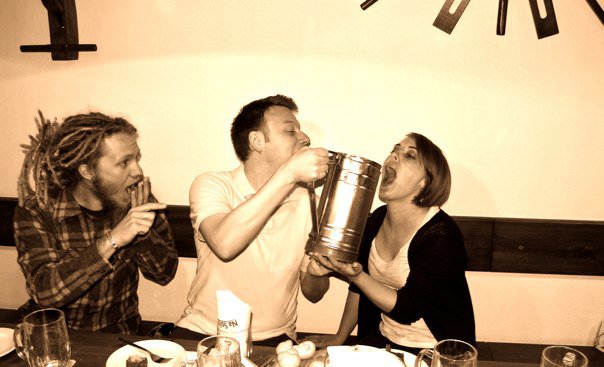 Well, we do have a drinking problem. The problem is all this great beer in Europe and hardly enough time to try it all. It's only a matter of time before we have to move back to Austin and leave all this beer opportunity behind.
Thankfully, Austin's growing craft beer industry offers some consolation. And the best of that craft beer, Circle Brewing, sent an emissary to help us in our quest to experience the best beers Europe has to offer. Amy and I met up with our friends Marjorie and Jud (co-founder of Circle) a few weeks ago for a beer tour of Bavaria in southern Germany.
Beer Tour Rules
The tour started in Munich, Germany and ended in Pilzen, Czech Republic (Yes, I know, that's actually Bohemia). Here are a few rules we lived by during the tour.
Leave no beer behind. If someone can't finish their last beer in a sitting, the group has to pick up the slack.
Fit in a beer at every opportunity. Five minutes before a tour starts? That's enough time for a beer.
You will be judged by your peers for speed and style. You'll earn a ranking for every round of beers based on the order of finishing that round. But it's bad form to chug a beer just to win. This is really good beer, and we're here to taste it.
May Pole spotting. Spot a May Pole first and you win. Bragging rights, I guess. If you brag about such things.
Ok, enough of that, the tour begins.
Munich
In Munich you are obligated one visit to Haufbrau House, which is a huge, traditional beerhall. Pretty touristy, but one of those things you have to do at least once. It was giant, crowded, and full of foriegners enjoying their 1 liter beers.
When we entered Amy said it smelled like sweat and hops. In case you think the smell of sweat and hops sounds terrible, consider that in the 1800s the toilets were just a trench under the tables. Yep, no need to leave the table to pee. Smells aside, we had a smashing time.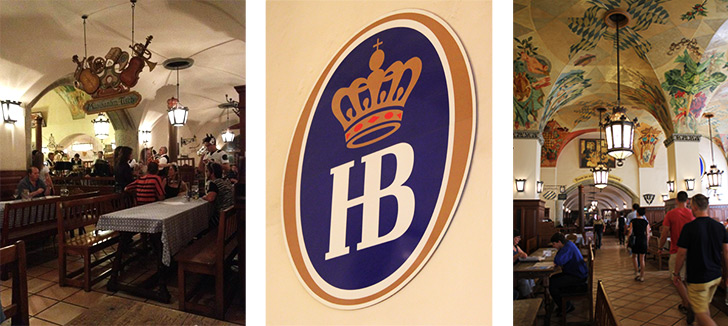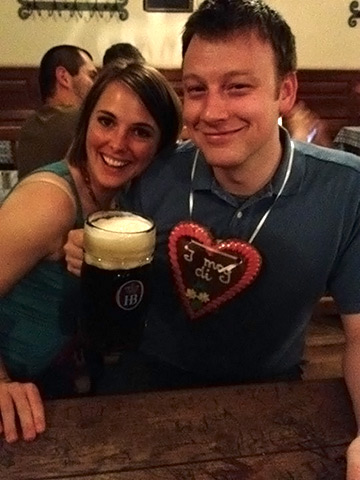 We also headed up to Andechs, a beer brewing monastery outside of Munich.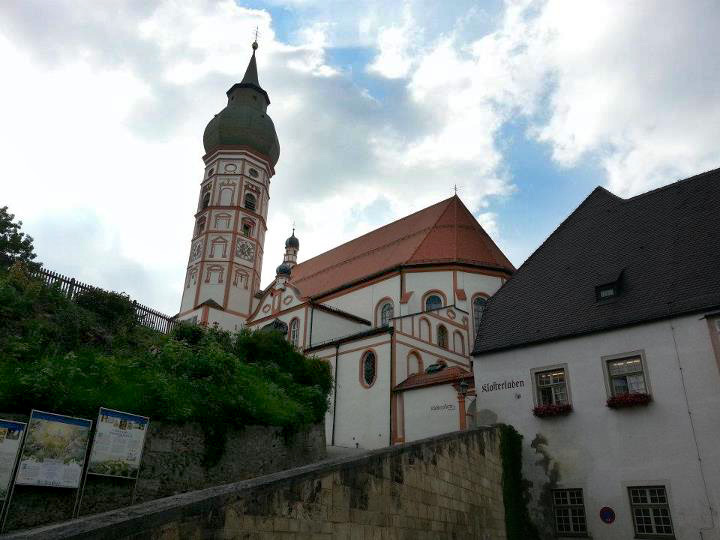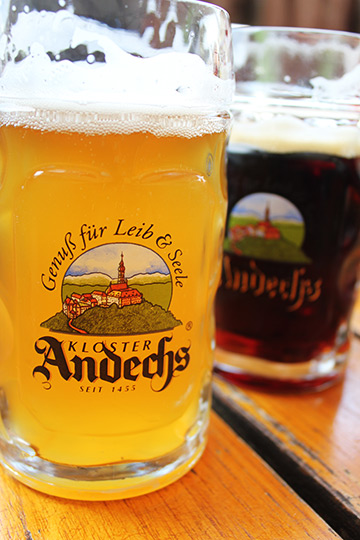 Romantic (but deadly) Road
The Romantic Road is a famous scenic route that passes through a string of small villages and towns in Bavaria. It's sort of the best Sunday drive ever – winding roads, beautiful views, and even castles. We rented a car in Munich and drove through a bit of it on our way to Nuremberg.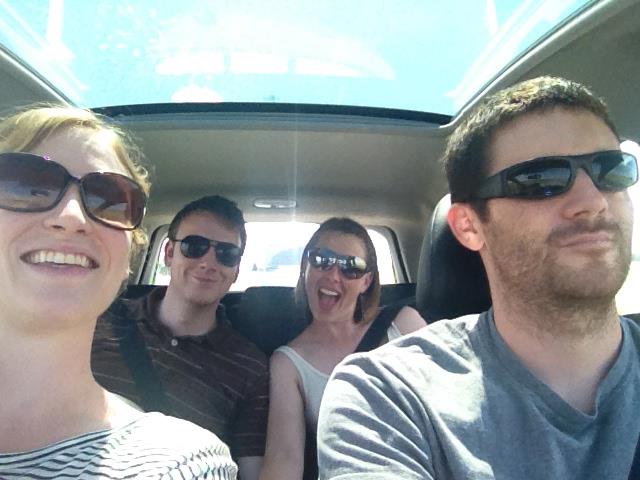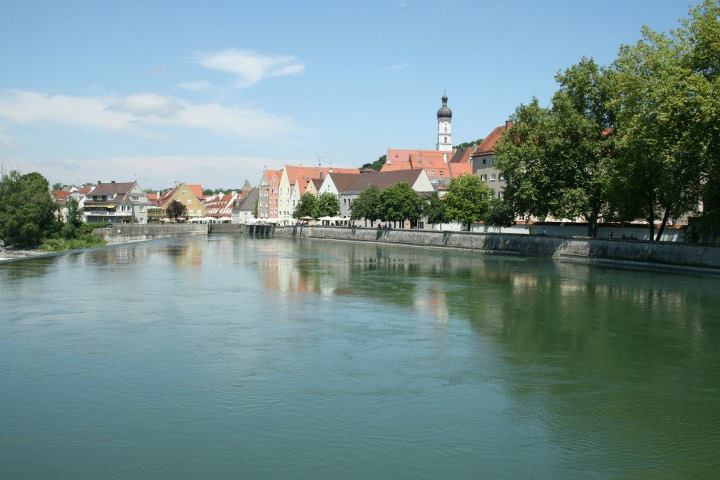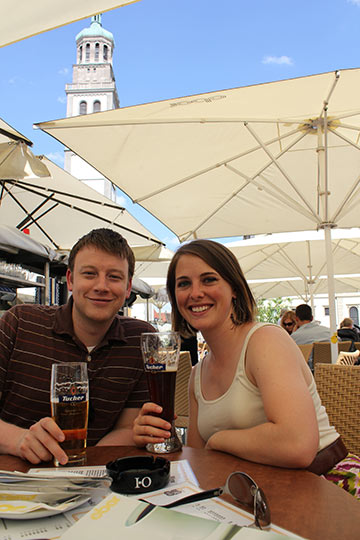 It was a very relaxing day, except we did almost die from a tour bus collision. Here is the video evidence.
Nuremberg
Nuremberg was lovely. I don't remember any significant beers here, but I do remember a really cool castle and picturesque views.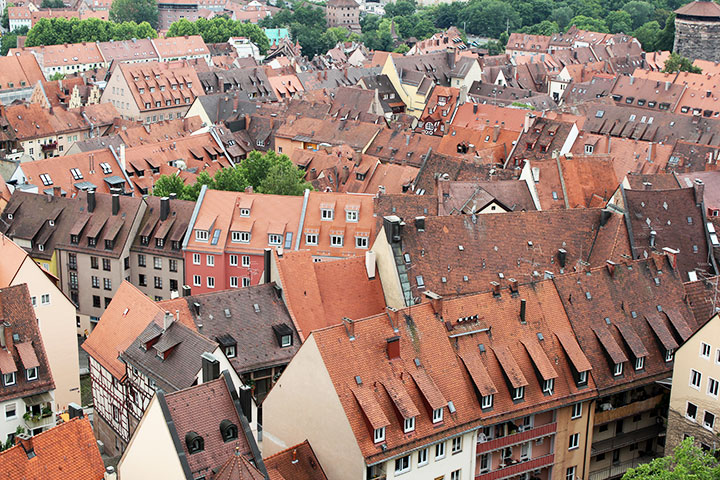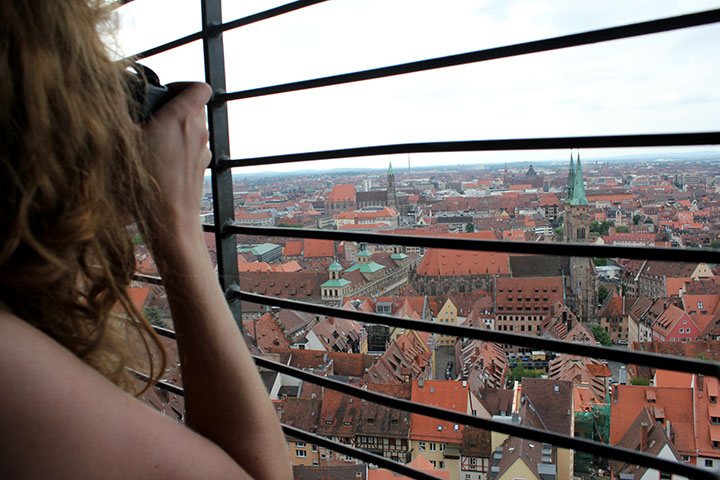 We arrived in the evening, so after dinner we went up to the castle in the dark because it was open and why not? Amy tried her hand at capturing some lightning photography while the rest of us waited to escape the coming rain and to leave the highest spot in the city during a lightning storm.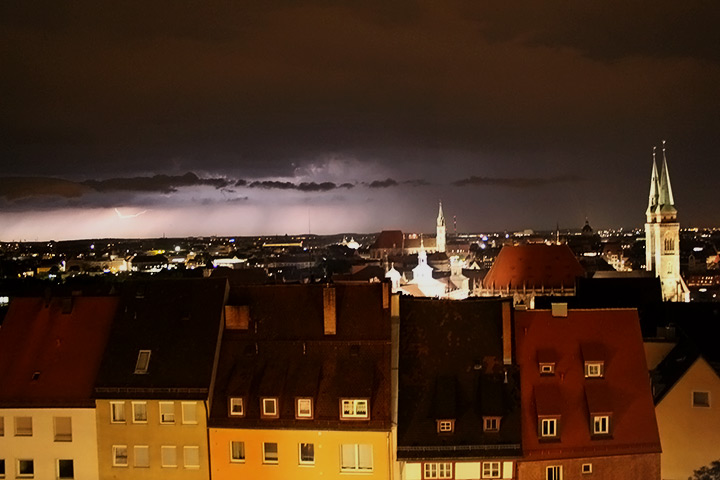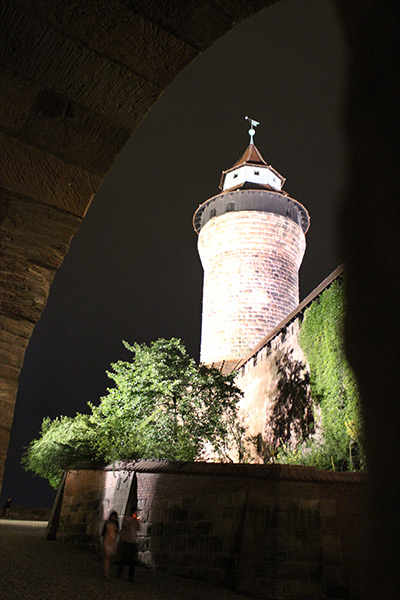 The next morning Amy and I woke up early for a jog we won't soon forget: running along the inside of the old city walls. We stumbled into the red light district on accident, but that just added… interest… to the run. Or maybe it just gave us a reason to run faster, I'm not sure.
Regardless, there was plenty of beautiful, old town scenery to be had in Nuremberg. I'm not referring to the older lady doing a crossword puzzle in her underwear in one of the red light district windows, either.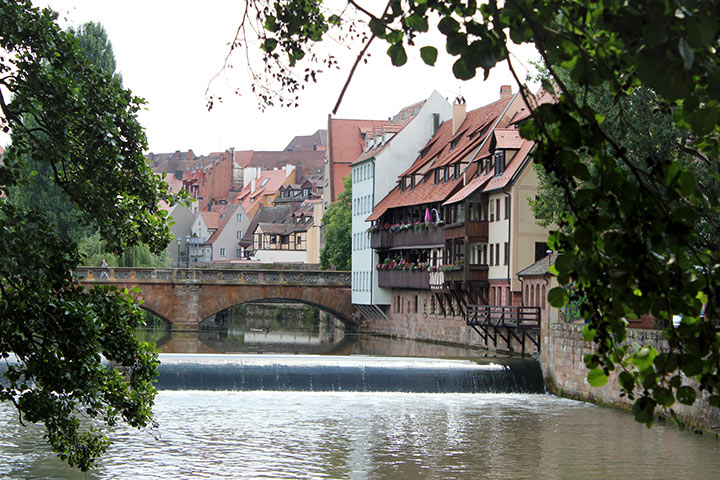 Bamberg
Our beer pilgrimage led us to Bamberg, the pinacle of our beer experience in Bavaria. The whole town of Bamberg is listed on the Unesco World Heritage List. No lack of atmosphere here.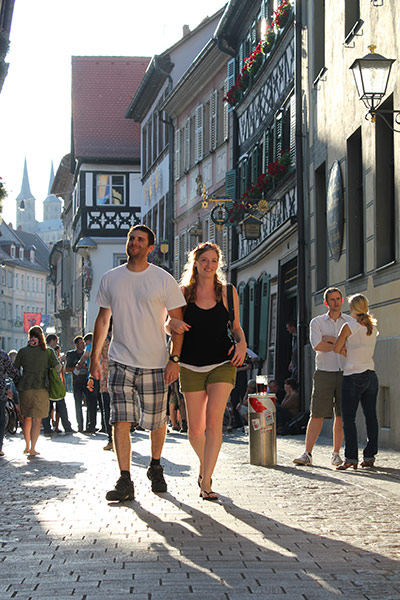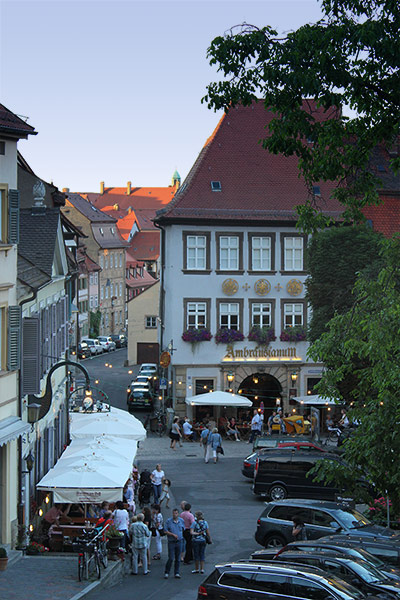 There was no lack of beer, either. The town boasts 8 different breweries, which is a lot for a town its size. Many of them have been in operation for three or four hundred years. They know what they're doing.
We only had one night in Bamberg, so we began a rather ambitious expedition: to visit as many of Bamberg's brew pubs as possible in one night. We made it to at least four. In retrospect, that's not really that great. We must be getting old. Or more mature. Yeah, that's it.
The highlight of the entire trip was the Rauchbier, which I can now pronounce 100% correctly thanks to one not-so-impressed-with-foreigners barmaid. She was very good at two things: correcting pronunciation and being impatient. But that's besides the point, the beer – the Rauchbier – was like nothing I'd ever had before.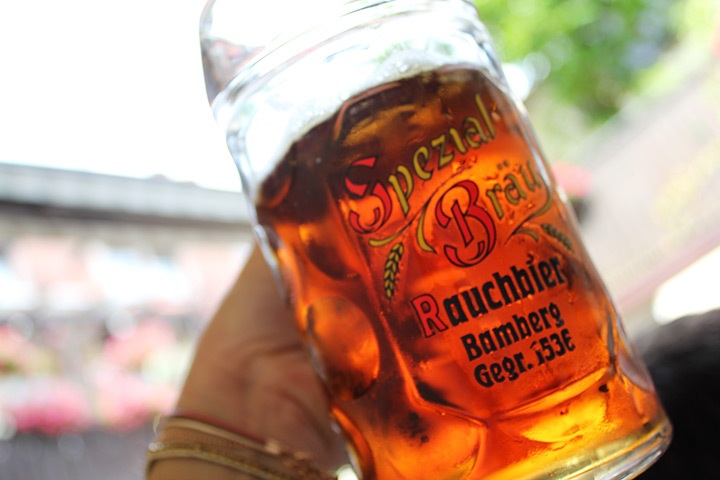 Rauchbier is a "smoked beer", and a Bamberg specialty. Oh, but it's NOT in every pub in Bamberg, so don't you dare order it at every pub (more helpful information from our favorite barmaid). Rauchbier is made by drying the malted barley over an open flame, which in turn gives the beer a smokey flavor. Our favorite was at our first stop, a brewpub called Spezial.
We stopped at several more places and tried several more beers, but the Rauchbier stood out as my clear favorite. I miss that beer… ah but I digress. Back to our awesome walk-around Bamberg.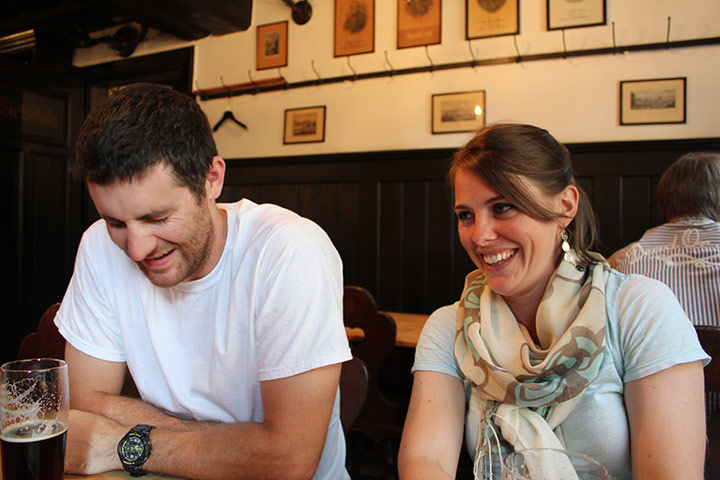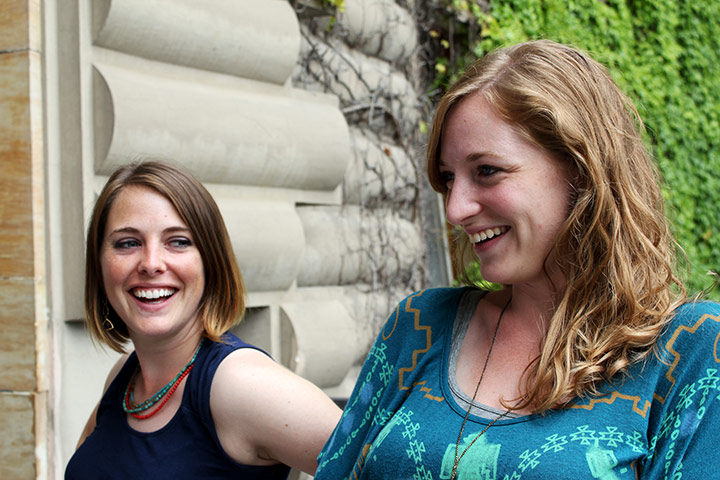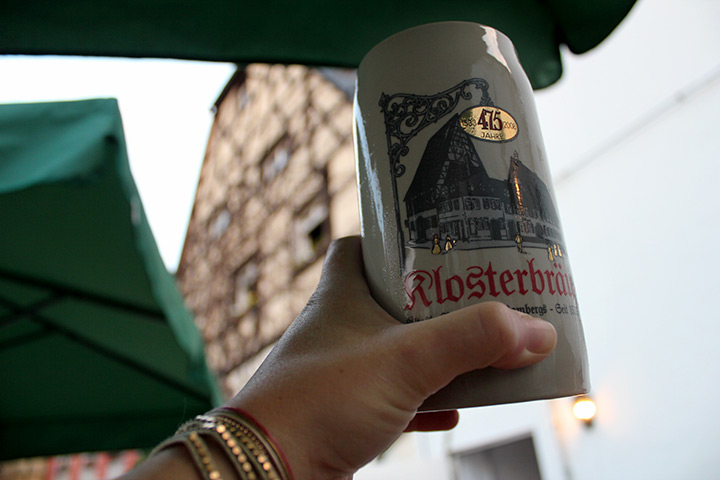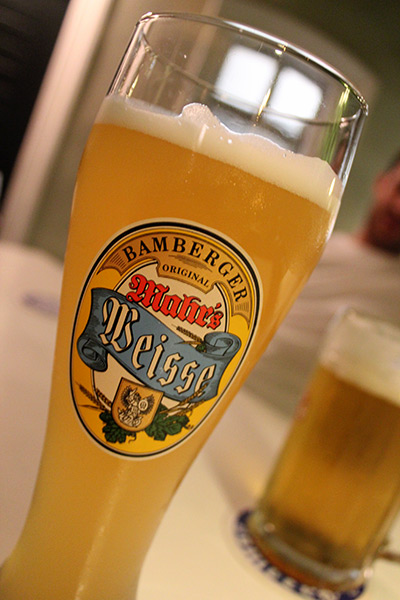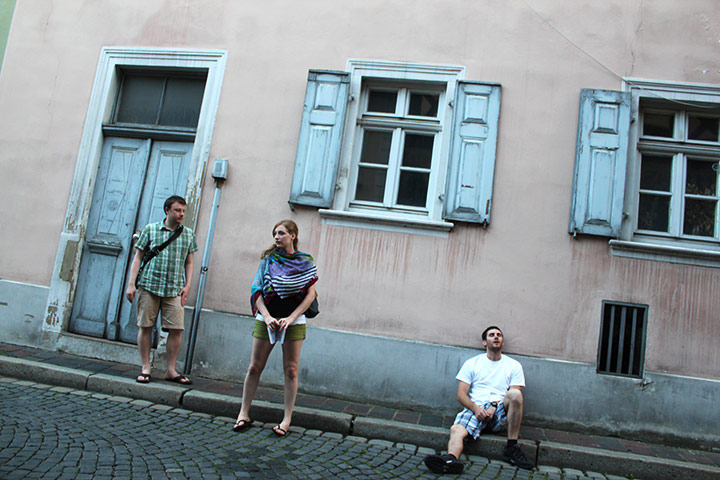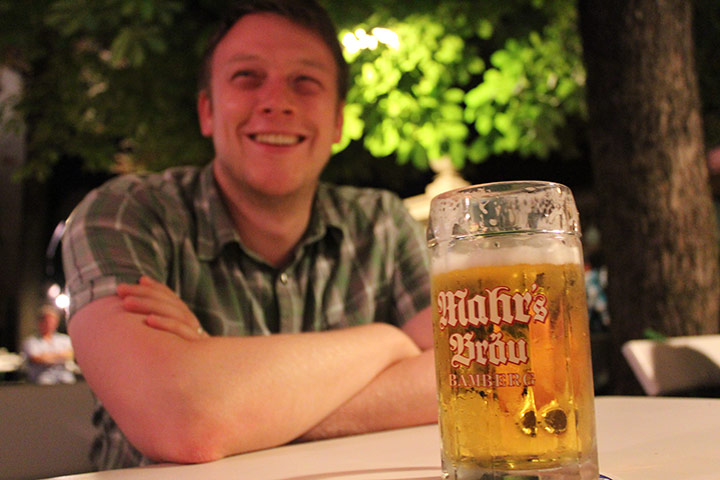 And finally, Pilsen
We boarded a train to Prague and stopped off in Pilsen on the way. Pilsen is the home of Pilsner Urquell, and famous for being the birthplace of the Pilsner style of beer.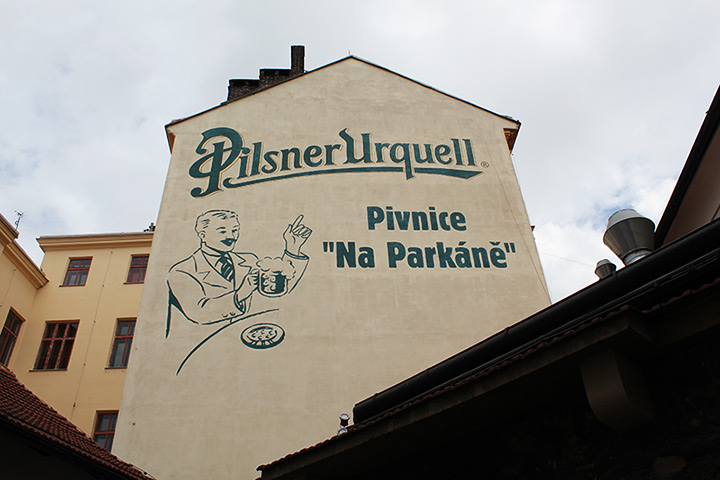 Our train arrived a bit early for the Pilsner Brewery tour, so we killed time by taking an underground tour of Pilsen. It was a little underwhelming, but we did get to see some tunnels and wear hard hats and hair nets.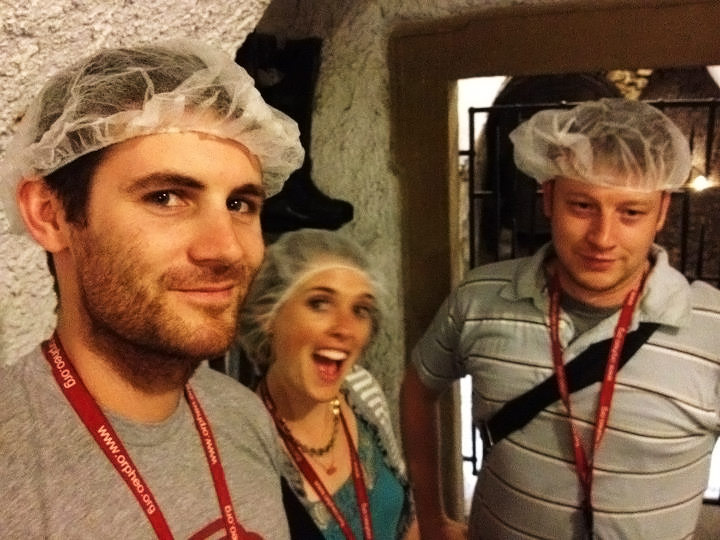 The underground tour ended late, however, which meant a mad dash back to the Pilsner Brewery where Marjorie and Jud barely made the next tour. Amy and I had already been, so we goofed around town taking pictures and, of course, had a beer or two.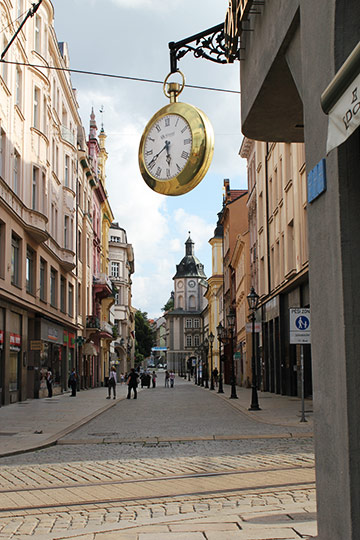 Home again, home again
With our arrival in Prague, the beer tour officially came to an end.
Thankfully the delicious beer did not. We'll continue to enjoy one of the many benefits of Czech living (cheap, delicious beer) with what time we have left here, and look forward to trying out what Austin has to offer in the near future.